Euro NCAP Rating – 5 stars
The Ford Mondeo Hatchback was tested by Euro NCAP in 2014 and was awarded a 5 star overall rating. This overall rating is calculated from the following individual ratings: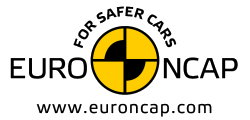 TEST 2014
Individual safety ratings
Adult Occupant:
86%
Child Occupant:
82%
Vulnerable Road Users:
66%
Safety Assist:
66%
Euro NCAP provides motoring consumers with a realistic and independent assessment of the safety performance of some of the most popular cars sold in Europe. The safety ratings are determined from a series of vehicle tests, designed and carried out by Euro NCAP. These tests represent, in a simplified way, important real life accident scenarios that could result in injured or killed car occupants or other road users.